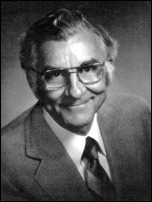 About Cavett Robert, by Jim Mathis
We live in a society where the average individual will change professions three or four times in their lifetime. I don't mean jobs, I mean professions. This is nothing new; people have done it for years. But, what about starting a profession that almost no one is practicing? What if there is no model to follow? What if you are pioneering a career in a field that doesn't even exist? Cavett Robert is a perfect example of an individual who changed professions several times in life and went on to great success. He is best known for the one he chose after age 60, a time when most people are looking forward to retirement! You may have never heard of Cavett Robert, but when you finish reading his story, you will find that you have heard of his many accomplishments.
Cavett was born in 1907 in Starkville, Mississippi. He attended Furman University in Greenville, South Carolina and then the University of Mississippi, in Oxford,
Mississippi. He graduated from "Ole' Miss" in 1929 with a BA and a BS degree and after graduating, taught school in Prairie Point, MS. He taught first through twelfth grades in this small town one-room schoolhouse. During the summer, he got a job installing a gas line through the area (change #1). After several months, his brother-in-law who had just been appointed President of Washington and Lee University encouraged Cavett to come to Virginia and study Law (change #2). This would become his profession for the next 30 years. After passing the Bar exam, he was appointed judge in Lexington, Virginia. Following that, he worked in New York City with a law firm and then with District Attorney (future Governor and Presidential candidate) Thomas Dewey, investigating gangsters and racketeering in the famous "Racket Investigations."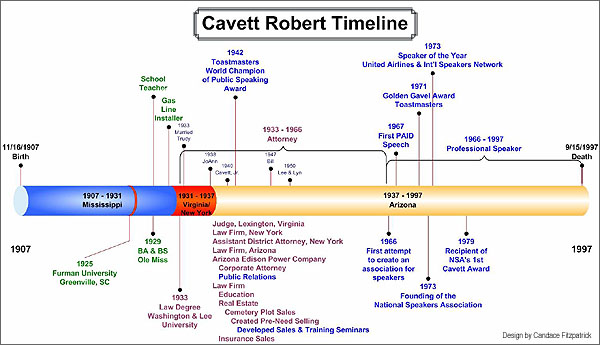 Cavett and his wife, Trudy (a former Miss South Carolina), decided that they should move to a warmer climate for his health, so he took a position with a law firm in Arizona. This would become his new adopted home. He worked for firms in Jerome, and Douglas, Arizona. After several years in Arizona, Arizona Edison Power Company hired him to travel around to their cities as a public relations representative and speak for the company. He did this for three years. He would go to small towns around Arizona and speak to churches, Service Clubs, Chambers of Commerce and Toastmasters Clubs. Following this speaking stint, he was hired by a law firm in Phoenix to work in education and real estate. It was there that he got into selling insurance and cemeteries (changes #3 and 4). There were a few other people doing this but Cavett Robert was the first person to start "pre-need" selling (advance selling of all services for your funeral, so your family will be spared the burden at your death). He would sell lots in advance for one-fourth the cost. He was so successful that he developed training seminars to educate sales people in selling real estate and cemetery lots. This was the beginning of his sales and training career (change #5). Eventually, he worked as a lawyer under the Land Department. He developed real estate training albums and gave seminars.
Cavett always had a desire to help other people and to communicate more effectively. He took the Dale Carnegie course in his early days as a lawyer because of his fear of public speaking. He joined Toastmasters International and eventually won the International Speaking Contest in his second attempt. He was eventually awarded the Golden Gavel Award from Toastmasters International and Speaker of the Year by United Airlines and International Speakers Network. He started to receive invitations to do presentations around the country.
In those days the only "professional" speakers were doctors, lawyers, politicians and celebrities. In 1966, he decided he wanted to help other people to become better speakers and how to market themselves with the idea that there was always enough room in the profession for more and he felt the standard of ethics and quality needed to be improved. This would be an uphill battle since only 3% of organizations in that day used outside professional speakers. But Cavett's motto was: "Don't worry about how we divide up the pie, there is enough for everybody. Let's just make a bigger pie!" Most professions are so filled with competition that this thinking isn't rewarded, but to the speaking profession, this would ignite an industry boom. An industry where, previously, very few of the organizations used professional speakers.
He invited people he knew who were doing this or wanted to do this as a profession to join him in Phoenix, Arizona at the Camelback Inn and called it "The Phoenix Summer Sales Seminar." Eventually, he wanted to form a national organization with the goals of making speaking a full-time profession (there was no such thing) and helping people to become professional speakers through OPE (Other People's Experience).
The idea of full-time speaking was unheard of, for the most part. The concept of helping each other out in a competitive market was unthinkable. Speakers would write or call him with discouraging statements: "Oh, it's been tried before ...it'll never work." Remember these were the people who would one day be known as "motivational" speakers! Cavett realized that he would have to use his skills as a salesman to win people over to the idea of a speaker's association. He had high standards and a clear purpose in mind. The National Speaker's Association was to promote high ethical and professional standards and education of its members. It was never to exist for selfish, self-promotion of its members. It was hoped that the public would recognize a member of NSA as one who adhered to the high standards of the profession. He built the concept with the mission, "There is nothing that can't be accomplished when the right people are swept up in a worthy cause, divorced from who gets credit for what!"
Dr. Norman Vincent Peale (whose son attended W & L and whom Cavett met through his Uncle, Frank Gaines, President of Washington and Lee) had promised Cavett early on that if he could keep the organization together, he would do a keynote speech for it. When Peale spoke for the fledgling organization, it boosted the membership to a new level and NSA was on its way. Cavett appointed a board, and advertised the high standards to prospective members. They elected a recognized professional speaker to be the first President (the late Bill Gove). As the organization grew, it never lost sight of its purpose. After a few years that purpose became the drive to give an annual award to the individual who embodied the profession's highest standards: known as the Cavett Award. Cavett, himself was the first recipient in 1979 and Bill Gove was the second.
Today, as a professional member of NSA myself, I can say that our members adhere to strict standards including eight competencies in speaking and training. The Association has over 4,500 members, internationally, and continues to grow annually. There is now an International Speaking Federation for world-wide members. Cavett passed away in 1997, leaving a lasting legacy in every individual's life who has heard a motivational speaker or trainer from the National Speaker's Association. Personally, we, the members of NSA, call the attitude of helping
each other: "The Spirit of Cavett.'' NSA has grown to be a place where people can share, grow and nurture each other just as he dreamed it would.
Wouldn't it be great if every profession had this goal in mind? Next time you think of changing professions, remember Cavett Robert, a man who reinvented himself many times and left a legacy of a better world through the encouragement of others.

Jim Mathis